Why you need this child safety toolkit
DOWNLOAD NOW: www.communitydirectors.com.au/childsafetytoolkit
When Damien Rider strode to the microphone, many hadn't heard of Paddle Against Child Abuse or the Rider Foundation, but his tale of abuse as a child, life on the street and 34 years of torment before finding salvation through incredible feats of endurance couldn't help but strike a chord.
Tall, strong, handsome and super fit, Mr Rider seemed a world away from enduring notions of victimhood, but that was partly his point — child abuse can affect anyone, and the ramifications last a lifetime.
"When you go through child abuse … for 34 years, what I went through … ruined me," he said at the launch of a newly revised Child Safety Toolkit, a publication to help not-for-profit organisations prevent child abuse.
And while Mr Rider's self-imposed solution "to test myself" by participating in punishing physical sporting events had worked for him and other survivors, he said that preventing the problem before it caused untold damage was preferable.
"That's what's so important about this toolkit. We can stop it beforehand."
With 409 recommendations coming from the Royal Commission into Institutional Responses to Child Sexual Abuse, it's not surprising sports clubs, schools, not-for-profits, and volunteer groups struggle to implement changes they know are necessary.
But a partnership between Our Community, not-for-profit legal experts Moores and child safety advocates Child Wise (a part of Save the Children) has produced an easy-to-follow guide to action.
The guide:
incorporates recommendations from the Royal Commission into Institutional Responses to Child Sexual Abuse;
compares the rules in different states and territories;
includes a compliance checklist; and,
provides draft policies for organisations to use.
The partnership comes in the wake of the royal commission, and its damning evidence about the failure of many organisations, including not-for-profits, to protect the children within their care.
The 2018 Child Safety Toolkit: How to Create a Child Safe Organisation, overhauls the previous version to take into account laws invoked in the past two years.
Chair of the Community Director's Council, Susan Pascoe, said the royal commission had revealed the huge toll when professional and governance standards were not followed.
"The data that we now have before us tells us that one in four girls, and one in seven boys will be sexually abused as a child – and this is only sexual abuse, these figures don't even take into account neglect, physical or emotional abuse. This is not good enough. As a society we must now draw a line in the sand and say stop – enough."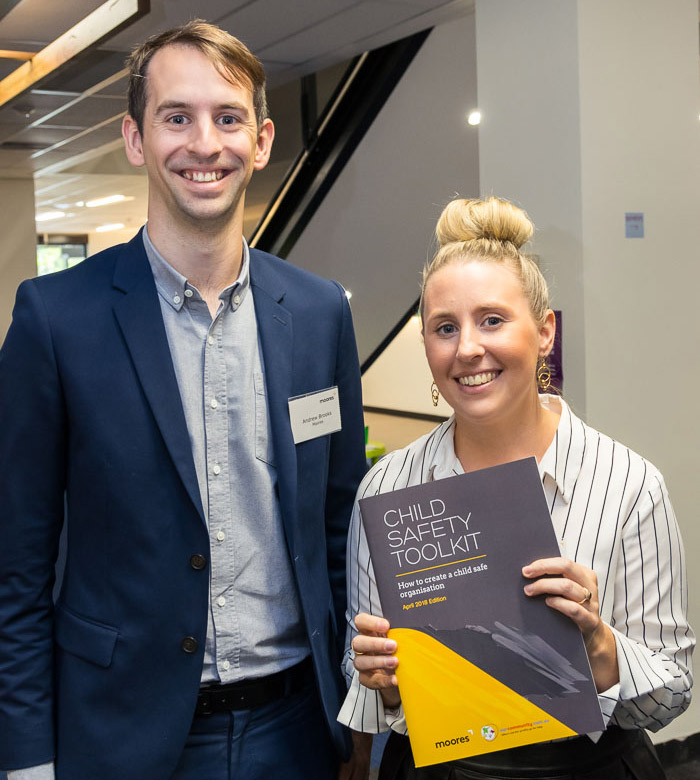 Report authors and siblings Andrew and Catherine Brooks of Moores. Picture: Nils Versemann
"We've worked hard to make this the most plain-language, user-friendly, practical guide available. We've made sure it's free to download. We want to put children at the heart of this exercise, to provide support for the Australian not-for-profit sector to be an exemplar of good practice and make sure that no organisation can say they didn't know how to approach the topic of child protection," she said.
"This toolkit has one aim and one aim alone. It was designed as a tool to completely eradicate child abuse in our communities, and especially within the not-for-profit sector."
Ms Pascoe warned that community groups had been in the sights of the royal commission.
"What the Commissioners found in their research is that most community groups fail to properly identify perpetrators or know what to do when concerns are raised.
"This toolkit is an important part of the solution for your community group. This toolkit should be your first port of call when hiring someone who is going to be working or volunteering with children. It should be your first port of call if you want a sample policy, procedure and code of conduct when it comes to child safety.
"And it should be a document read and understood at board level."
"The release of the Royal Commission findings in December was where our country drew a line under how we approach the crucial task of safeguarding children," said Moores CEO David Wells.
"It's no longer acceptable to say 'I didn't know,' or 'We did our best.' Not-for-profit organisations have to get this right. The toolkit provides the practical advice even the smallest not-for-profit organisation can use to get on top of their responsibilities and put the right processes in place."
Child Wise executive director Jane French said everyone could play an important role in eliminating child abuse in society.
"Now more than ever it is important that everyone understands their obligations to keep children safe," Ms French said.
MORE
DOWNLOAD NOW: www.communitydirectors.com.au/childsafetytoolkit
TIPS FOR ORGS: How key findings from the royal commission affect you