A new era for community directors: a navigator's guide
VIDEO: Susan Pascoe on how ways not-for-profits can stay on top of their responsibilities and their missions too
By Kerryn Burgess, Our Community Matters editor
Community directors face an unprecedented burden of increased regulation, decreased funding and low community trust, according to the former commissioner of the Australian Charities and Not-for-profits Commission, Susan Pascoe.
Addressing the Community Directors Conference in Melbourne, Ms Pascoe mapped the terrain that not-for-profits must navigate, and issued a handy set of signposts.
FULL SPEECH: Read a full transcription of Ms Pascoe's keynote address to conference delegates here.
Regulation mountains
Governments don't want to oppress community groups, Ms Pascoe said, but they do respond to public complaints.
"Regulations that demand commercial-level food production standards from church cake stalls came about because something went wrong and someone got sick and the public demanded reform.
"The public – that's us – is increasingly risk-averse, and increasingly litigious, and if governments don't act, insurance companies will. There's no going back to the old ways of muddling through and taking-the-rough-with-the-smooth and near-enough-is-good-enough."
Complacency has no place in the 21st-century not-for-profit, she said, warning that reputational damage was a cost that few organisations could bear.
"As a community director, you would know that trust is your organisation's most valuable asset. It can take a lifetime to build it but an instant to destroy it."
Funding gaps and evaluation canyons
Demand for the type of work that not-for-profits do is increasing, but groups have to work harder than ever to find – and justify – the money and resources they need to carry it out, she said.
"We have an ageing society with an increased care load, and fewer hands to share the load.
"Donors are reluctant to fund basic administration. They prefer new projects."
In the ongoing slog to find funding, she said, it was tempting for groups to chase the money instead of staying true to their reason for being.
"What is your organisation's purpose? You must keep that front and centre. You must fight hard against the urge to change shape or compromise your mission to suit current funding trends."
Ms Pascoe noted the trend towards more rigorous measurement and evaluation.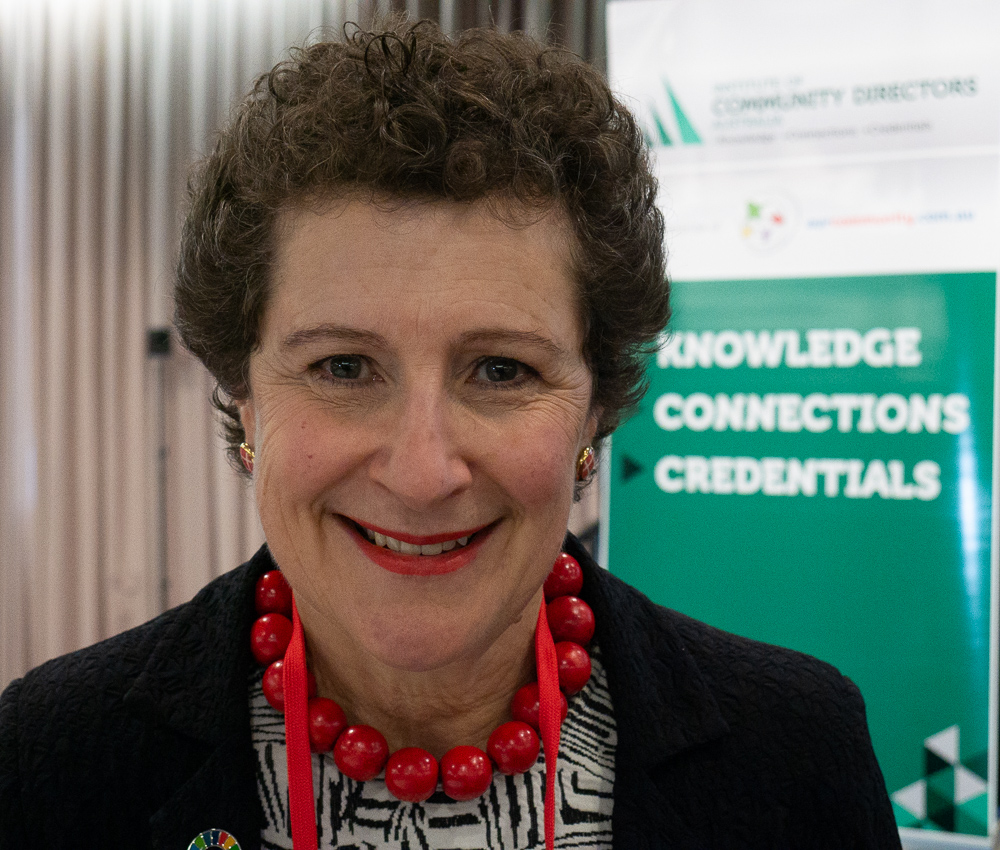 Community Directors Council chair Susan Pascoe
"The buzzword we're all coming to hear more and more is 'evidence-based'. And that's fair enough. You should be able to show you're doing good in the world; you should not expect people to just take our word for it.
"The problem is that evaluation easily slides into valuation. In dollars. A commercial organisation doesn't need evaluation, because everything it does is converted into a direct and easily comparable metric: money. With not-for-profits it's not quite so easy. By definition, we have values that aren't monetary and thus not comparable."
Diversity: the challenge in the heartland
Australian society has become explosively more diverse and accepting very quickly, Ms Pascoe noted, but not-for-profit groups are lagging – "not through any opposition to diversity in and of itself but because the status quo can be slow to shift."
"Most Australian not-for-profits welcome women and minorities in theory. The problem only starts if the new entrants start questioning how we've always done things. That's where change bites. Are we ready to tell the men to bring a plate?
"Australian not-for-profits must go further than letting under-represented groups join them; they must let those change them. The board must lead this change."
Signposts: this way towards meaning
Despite the challenges, Ms Pascoe said, the work of not-for-profits is exceptionally rewarding.
"Volunteers – and that includes most community directors – work for nothing, because we know we're working for everything. What people really, really want is to know that their lives have meaning. That's what Australian not-for-profits have to offer."
MORE
Read Susan Pascoe's speech in full here.
Conference wrap: Highlights from the event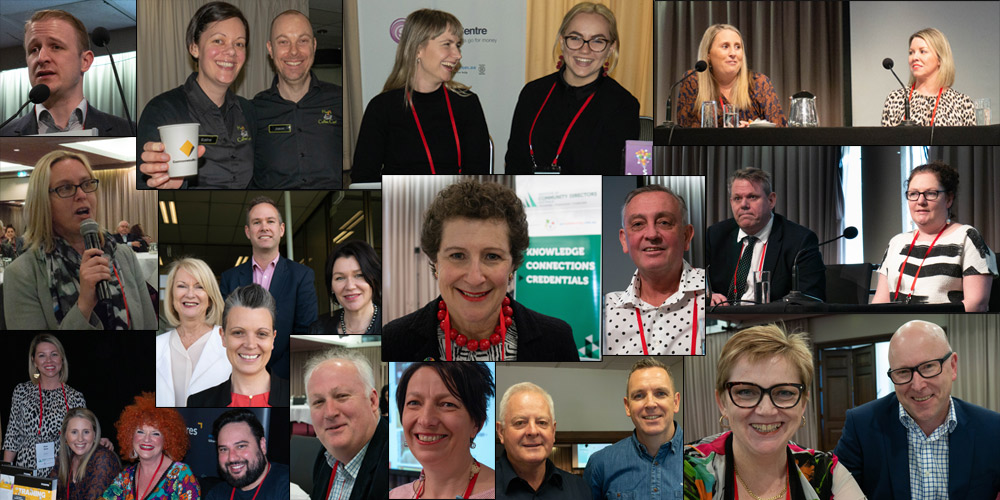 The Community Directors Conference drew delegates of not-for-profits from around Australia to keep abreast of the latest trends.