Surviving and Thriving as a Safe Effective Board Member
The essential facts you need to know before, during and after joining a community Board
What should you do when someone asks you to join the Board of a not-for-profit group? And what do you have to be aware of when you do actually say yes. Find out what your legal responsibilities are and what compliance, governance and performance actually means for the not-for-profit Director. This guide takes you through the questions you should ask before you join, your responsibilities while on the Board and the action you should take when you decide it's time to leave the Board. This no-nonsense guide also features the insights and tips of some of Australia's most experienced and knowledgeable community Board members.
---
What's inside?
Before You Take the Plunge

Getting back to basics

Understanding the legal structure of your community group
What is a Board?
What does a Board do?
What are Directors?
What do Directors do?
Who are the office bearers?

What's in it for me?

The good news
Bumps along the road

Are you Ready?

Learning from experiences
What should I be looking for?
Questions for the Board
Questions for Yourself
Checklist - Are you prepared?

Now You Are a Board Member

The Law and You

Your duties
A Duty to Whom?
Forgiveness of Breach
Other Relevant Laws

Your Financial Obligations

The Legal Responsibility of
Financial Competence

Protecting Yourself

Public Liability Insurance
Liability Insurance for
Directors and Officers

It's Not all about the Law

Understanding your Role
A Question of Ethics
A Worm's Eye View
At the meeting
Checklist: The Ideal Board Member - How do you Measure Up?

It's Not Over Yet

Tie up the Legal Loose Ends
Exiting with Grace
Closing Comments
Acknowledgements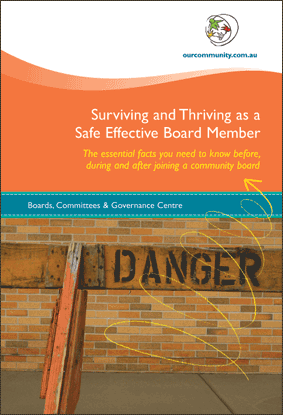 Download a sample
---
$36 (inc GST)
Includes FREE postage within Australia
(Shipped Tuesdays and Thursdays)
---
Format: Paperback
Pages: 75
ISBN: 1876976314
---
Want more?
Our Community has published an entire series of "how-to" guides that can help with your marketing, governance and fundraising needs.
Download a summary brochure